Living in a cabin.
I moved to a really neat place in Durham, where I am surrounded by trees and wisteria and where everyday, when I walk out the front door, it feels like I'm camping. Here's just a little taste of my surroundings: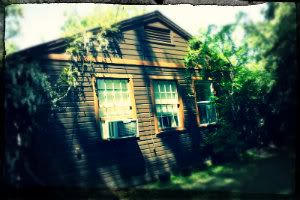 I can hear the train, am serenaded by yellow-billed magpies, hummingbirds, just recently - a group of 3 hens, evening dragonflies, ...it's a place where the stars seem brighter and every third car is a truck and every fourth is a tractor.
Got some barns and cabiny paintings coming down the pike. Also a little series on thoughts and reminders and my trip to the coast a few weeks ago.
Here's a taste: